MONTAPLAST by Land-Motorsport ended the season in Hockenheim with a podium result for Ricardo Feller and Jusuf Owega and a points finish for Christopher Mies and Tim Zimmermann. Despite all the ups and downs, the team led by Wolfgang and Christian Land took third place in the ADAC GT Masters team championship.
With the second-fastest lap in the last qualifying session of the year, Feller had already made his intention clear to take a podium finish to end the season. In the race he turned his excellent starting position into a comfortable second place in the race. "I was able to match the pace of the Mercedes at the front, but I couldn't get past it. At the same time, we were able to pull away from our pursuers," explained the Audi driver afterwards. Jusuf Owega then did the same as his Swiss teammate: after the driver change, he drove flawlessly and saw the chequered flag in second place. Thanks to the podium, the 20-year-old climbed another five positions in the drivers' standings.
Christopher Mies and Tim Zimmermann also made it through the race without making any mistakes. But the fight for the podium ended with a spin 15 minutes before the race end through no fault of their own. Because of a misjudgement from an opponent at the exit of the Ost-Kurve, Zimmermann spun off the track. Just a few laps earlier, he was hit by another driver, damaging the bodywork of the Audi R8 LMS GT3.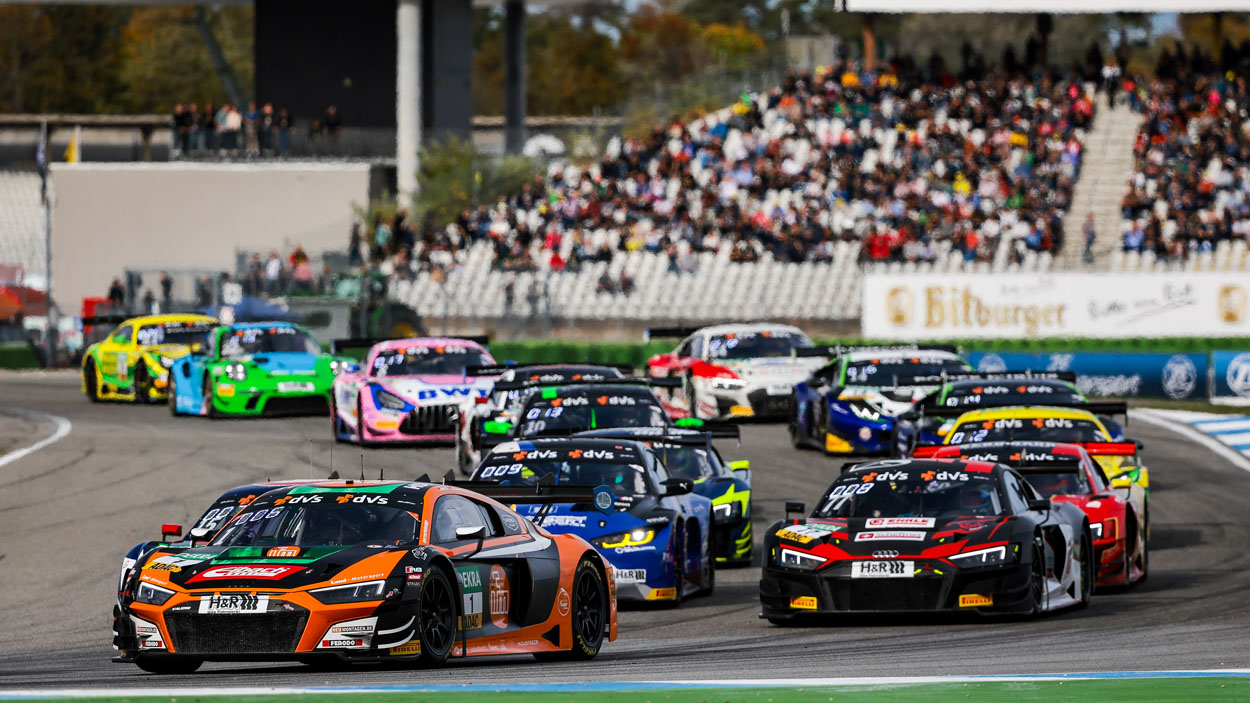 "I would have preferred a different end of the season," said Zimmermann, who eventually finished twelfth. "For me, this marks the end of a season that didn't start very easily. We had a few highlights and had the opportunity to be racing right at the front several times. All in all, I have to say that I'm grateful that I was able to contest the season with this team. I would be very happy to continue together."
Salman Owega and Christopher Haase travelled to Hockenheim with high hopes. However, due to an accident outside of their control during testing on Thursday, the race weekend ended before it really got going. It was particularly bitter for the duo as they recently scored their best result of the season in the ADAC GT Masters at the Sachsenring. Owega, the youngest driver in the field, shone again and again throughout the season with good results and a steep learning curve. The best illustration of this: his first junior podium on the penultimate race weekend.
"2022 didn't always go according to our expectations," team manager Christian Land summarises. "Therefore, it was even more important to get another good result in the season finale and to show that we can fight for victory. Both cars were fast enough for the podium. It was unnecessary for our #1 to be turned around by a competitor while in a promising position. Regardless, I would like to thank all crew members for their commitment this year."
Press downloads: