There was plenty to celebrate for MONTAPLAST by Land-Motorsport after an exciting weekend at the Sachsenring. The team scored valuable points in the fight for the title, retaining its championship lead and scoring yet another podium. Christopher Mies and Ricardo Feller are confident ahead of the conclusion to the ADAC GT Masters series. Teammates Christopher Haase and Luci Trefz also remain in high spirits, despite a difficult race weekend in Saxony.
"The fight for the championship is becoming tighter and tighter with every race," said Christian Land. "We are competing against the strongest teams and drivers in GT3 motorsport, there's no doubt at that. All we can do is make sure we don't make any mistakes and maximise our opportunities. That's exactly what we did this weekend. Our third place on Saturday and fifth on Sunday was a real team effort."
The fact that Mies and Feller managed to make the podium on Saturday after starting the race in fifth was partly due to the perfect strategy calls made by the team. The crew opted for an early driver change, and the decision was richly rewarded as the #29 car leapfrogged the two cars ahead. The third-place finish gave the drivers a taste of the podium champagne, but also 16 valuable points in the championship battle. "The pit stops were timed perfectly and gave us a great advantage," said Christopher Mies.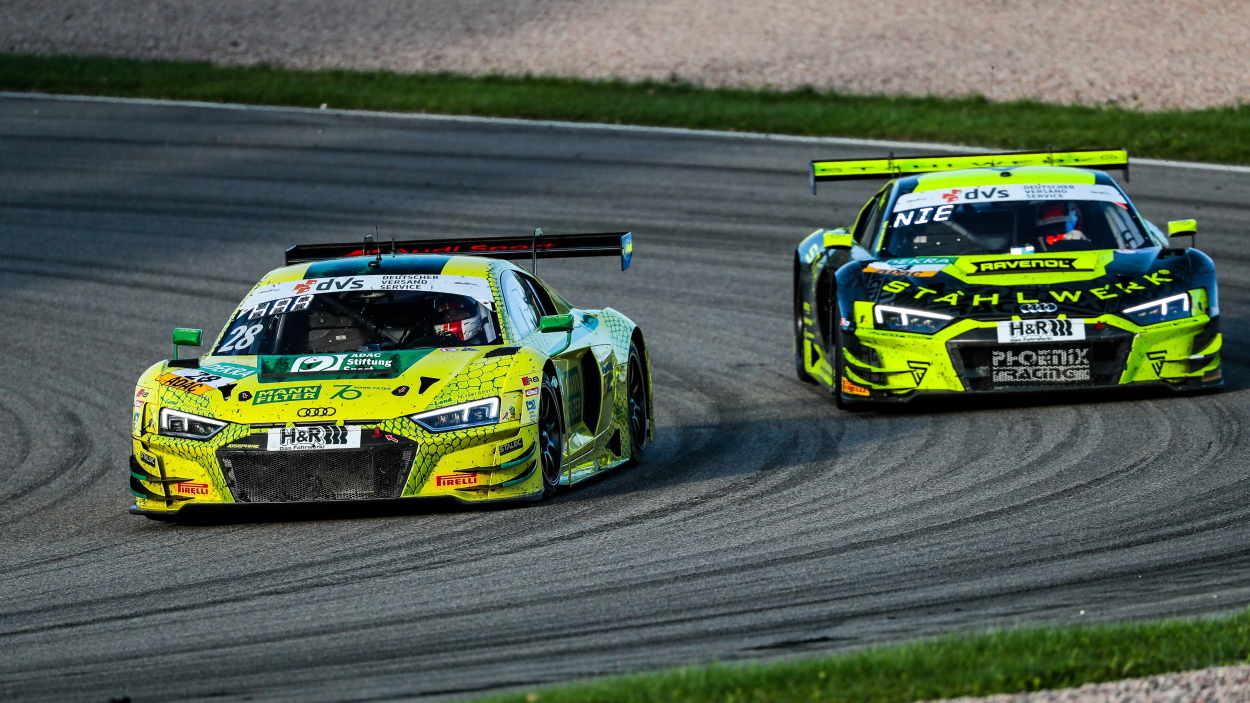 Mies and Feller continued their successful weekend on Sunday with a fifth-place finish in the second race of the weekend, cementing the pair's championship lead. "Today's race demonstrated what can happen in motorsport," said Feller. "The opening stages were extremely hectic, and it was important that we maximised our opportunities without taking too many risks." The pair currently lead the championship with four races of the season remaining, two points ahead of the Mercedes drivers Luca Stolz and Maro Engel.
For Christopher Haase and Luci Trefz, the fifth race weekend of the 2021 season wasn't much to write home about, despite a battling performance from Haase. After finishing 21st on Saturday, the Audi Sport drivers were involved in a pile-up involving a number of cars at the start of Sunday's race. "I tried to keep to the inside, but a few cars in front of me collided and I spun," Haase said.
The 34-year-old used all of his experience to minimise the damage, putting together a faultless performance to bring the MANN-FILTER Mamba back through the field. Luci Trefz, who took over driving duties for the second half of the race, crossed the line in 18th position.
The final two race weekends take place at the Hockenheimring (22 to 24 October) and Nürburgring (5 to 7 November).
Press downloads: