The ADAC GT Masters' popularity is to a certain degree due to the extensive coverage in TV. Someone who knows this particularly well is Eve Scheer. The TV station NITRO presenter has been covering the races on site since 2021.
Most people know what your work in front of the camera looks like, but what else is part of your job?
Preparations before the broadcasts are immensely important. For me, this includes watching races from recent years for example. Who won when, where and how – background information that helps us in the reporting process. I also inform myself about any construction works, which series were previously driven on the track and which rubber could still be on the surface. At the same time, initial plans about who we would like to talk to on the grid are made. As Nico (Menzel) and I often drive to the track together, we like to exchange information during the journey. For instance, which successes the teams achieved in recent weekends in other championships.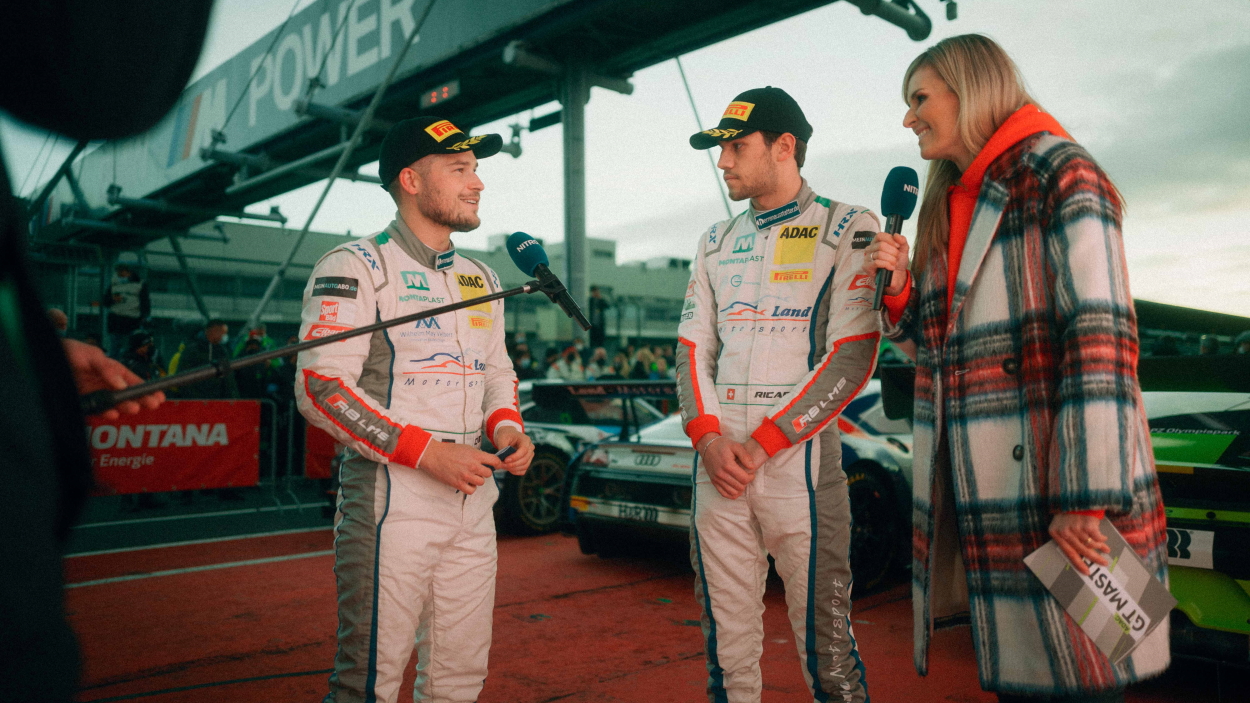 The ADAC GT Masters has been broadcasted by NITRO since 2021. How do you feel about reception by the public?
If we look at just the figures, especially in terms of market share, we can be genuinely satisfied. Of course, there is clearly room for improvement. The continually changing times last year complicated things a little, but I think this year, with set times, we've taken a big step in the right direction. Human beings are creatures of habit. All the better then, when broadcasting starts every time at 12:30 and the race begins at 13:00. We receive a lot of positive response from viewers, which, in addition to the variety of topics, is also a result of us always being close to the action. Working directly with drivers and teams and not having to first coordinate with press representatives for example, is certainly an advantage. That has a positive effect on humour and fun in the interviews.
Is this the case with Land-Motorsport?
Absolutely! I look forward to the Land interviews every time. It's always a surprise bag, whether you talk to Wolle or somebody else. For example, he told me last year before the season started, that Christian would be doing all interviews in future and then somehow Wolfgang is back again on the grid and comes into the picture to give drivers important tips or lighten the mood. With Land, you definitely sense that the whole family lives for motorsport – there's passion in every pore. The drivers are welcomed into the family and working together is super cool, which is something we really appreciate about Land. Sometimes, you get early information about what'll be on the lunch menu at the weekend and then you get to enjoy the homemade soup with them!