2019 may only have been a couple of days old, but MONTAPLAST by Land-Motorsport have already been out on track completing their first test programme of the new motorsport season. At the Roar Before The Rolex 24 at Daytona International Speedway, the team were busy preparing for the first endurance race of the season at the end of January.
The Rolex 24 at Daytona is the first highlight of the new season for the Niederdreisbach-based team. Christopher Mies, Daniel Morad and Dries Vanthoor used the test session in the first weekend of January to learn about the latest version of the Audi R8 LMS GT3. The driver trio put in plenty of kilometres during the event and are well-prepared for the upcoming 24-hour challenge.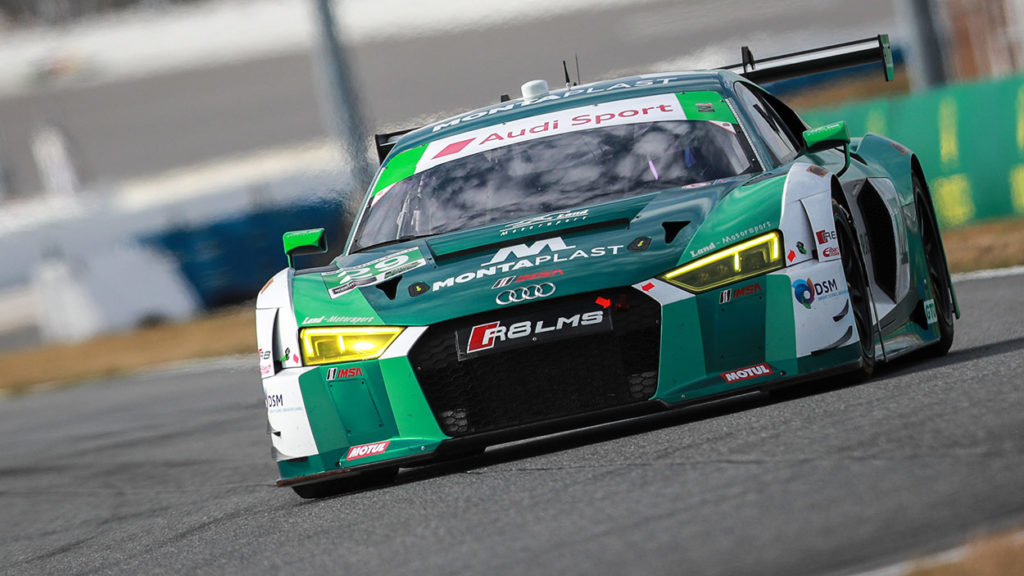 "We had two super-productive days of testing at the Roar", said Daniel Morad. "It was really great to get behind the wheel again after the winter break and complete the first few laps of the new season. The team has worked really hard to improve the last few details on the car and I am confident that we will be competitive at Daytona. I can't wait to take part in this legendary race for the second time."
Young Swiss driver Ricardo Feller will be joining Mies, Morad and Vanthoor for the Daytona race. The first race of 2019 for the MONTAPLAST by Land-Motorsport team takes place from 25 to 27 January.
Press downloads
[dg attachment_pg="false" paginate="true" ids="24672,24674,24680,24678″]