On 29 August, Land-Motorsport reached an important milestone in its history – its 25th overall victory in the Nürburgring Endurance Series. Wolfgang and Christian Land's team joined an illustrious list, with only three other teams having managed to score so many overall wins in the championship's 40-year history.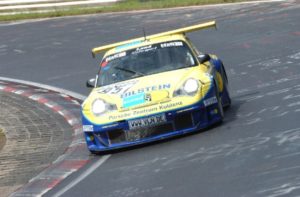 The Land-Motorsport success story began all the way back in 2004, when the Niederdreisbach-based squad partnered up with Porsche Zentrum Koblenz and Bilstein to enter what was then known as the BFGoodrich Langstreckenmeisterschaft. The team didn't have long to wait until its maiden victory, with Marc Basseng and Patrick Simon tasting the victory champagne in their Porsche 996 GT3 RSR at the fifth round of the season. This was followed by a further 18 victories, and the blue and yellow Bilstein Porsche had found its way into the hearts of Nürburgring fans.
The partnership came to an end in early 2009, and the team took a break from the championship from 2011. But it wasn't long until the squad were back and hungry for more victories. In 2016, Land-Motorsport returned to the Nürburgring with a new partner: Audi.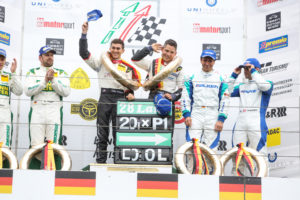 In just the fourth race of the season the team delivered its first victory with the famous four rings. The #28 Audi R8 LMS was expertly piloted by Christopher Mies and Connor De Phillippi, whose pole position in qualifying hinted at the team's performance that weekend. Despite strong rain and mist descending on the circuit, the pair promptly converted their advantage into the team's 20th overall victory.
Mies was once again responsible for helping the team achieve the next milestone four years down the line, securing Land-Motorsport's 25th overall win together with Mattia Drudi and Kelvin van der Linde. Once again, the Audi started the race from pole. Patrick Simon was also involved, albeit in his new capacity as a commentator instead of behind the wheel. For the first time a helicopter was in service to provide spectacular images of the Nordschleife.