The Audi Sport Team Land will be competing from 21 to 23 November in its last race of the 2019 season. Wolfgang and Christian Land's squad have chosen a real highlight for closing the season: Christopher Mies, Christopher Haase and Markus Winkelhock will be driving the MONTAPLAST Audi #29 in the Intercontinental GT Challenge Kyalami 9 Hour.
It isn't Land-Motorsport's first appearance at the 2019 Intercontinental GT Challenge, the team having already raced at Laguna Seca in March and the 24 Hours of Spa. After ranking seventh in the US and a 14th place in Belgium, the crew aims for a top result on the Kyalami Grand Prix Circuit.
Christopher Mies and Markus Winkelhock have previously driven for the MONTAPLAST team in Laguna Seca and now share the Audi R8 LMS GT3 cockpit with Christopher Haase. The trio will be setting off on the 4.5 km circuit with a specially designed car livery: in South Africa the Audi #29 sports a black/green zebra look – maintaining the Audi Sport tradition of reflecting and respecting host country backgrounds, and designing the cars accordingly, as previously in Australia and California.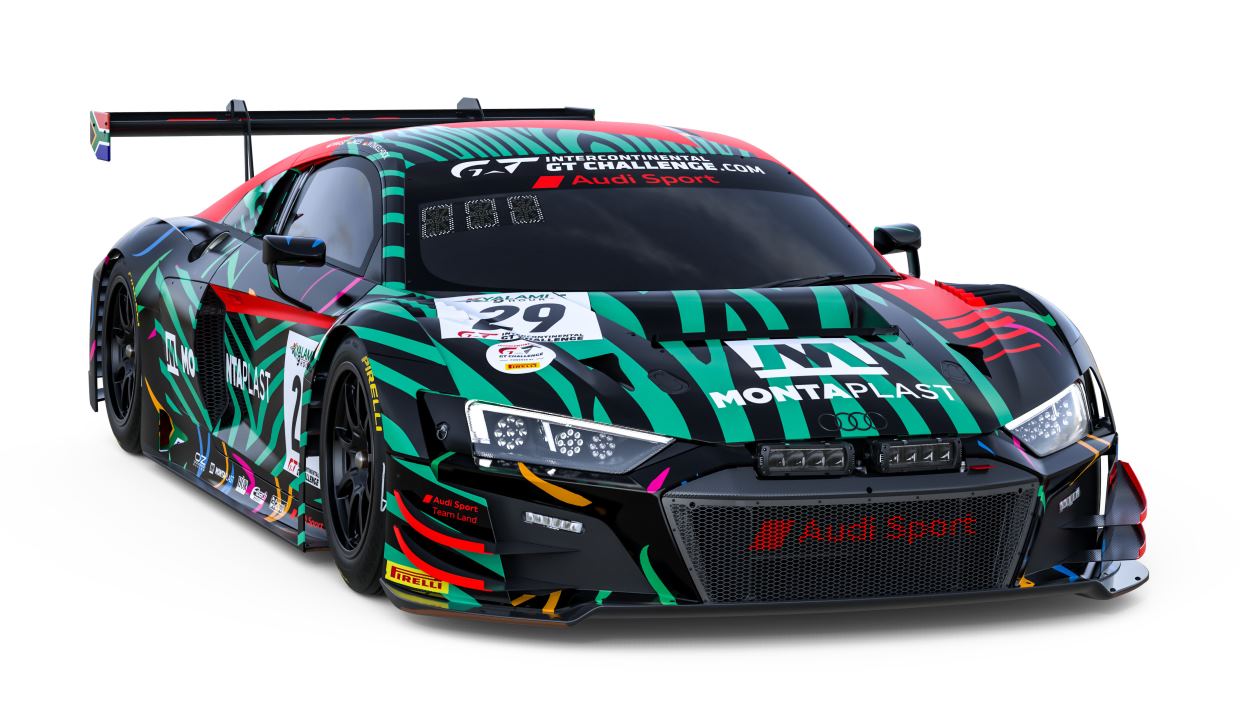 The Kyalami 9 Hour is a genuine debut and the international GT series is holding a race for the first time in South Africa, which also means an international endurance race on the circuit near Johannesburg for the first time in 37 years. Another special feature is the fact that the race starts in daylight and continues into the night – the chequered flag does not drop till 22:00 local time.
"We're really excited about the South Africa finale. The track is completely new territory for all concerned and this makes for higher tension regarding the weekend. We're very well-prepared and intent on another top result to end the season", said Team Principal Christian Land.
Official green light for the weekend is on Thursday, 21 November, starting with Free Practice. On Friday, there'll be Pre-Qualifying followed by three Qualifying sessions from 14.45 local time (13:45 CET). The day ends with the Pole Shootout at 16:25 (15:25 CET), when the top 10 qualifiers compete. The race itself begins on Saturday, 23 November, at 13:00 (12:00 CET). All sessions can be watched via the live stream.